Racecourse Beach 2019, we're off!
Club catered days Wed 24th, Thurs 25th and Fri 26th April.
To join us contact Gitta Johnston kengitta@optusnet.com.au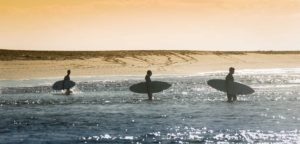 2019 Dates are Wednesday 24th to Saturday 27th April 2019 – catering on Wednesday,  Thursday & Friday.  Contact Gitta if you want to be included in this fun trip.
Here's a link to photos from the 2017 trip – contact vivienne@maviimages.com.au if you'd like to know more about the photos.
General FAQs below for more information.
For those of you that are new to the club this is a trip that is open to all current members and nipper families only. More than 300 of us (last year we estimated it was close to 350) go down the South Coast, between Ulladulla and Batemans Bay for days of surfing, swimming, fishing, socialising, tennis, bike-riding, putt-putt golfing and, most importantly, jumping pillow action.
A committee of club members organises three days of food and entertainment, for which you pay a per head rate. All you need to bring is yourselves and then, depending on the accomodation option you choose (see below), a tent, plates/bowls, eating utensils, sleeping gear and your surfboards, skateboards, bikes, scooters, roller-skates (the club also brings down loads of boards for everyone to use). The park is lovely and right on the beach with clean and grassy campsites including both powered and unpowered sites. On one evening we will hold the annual "Talent" spectacular where any keen adults or kids can show us their singing/dancing/playing/hidden talents. Another night is a fun slide show of special moments, and the ice-cream van will visit again – always a popular inclusion.
If ever you were going to camp this is a fantastic time – and way – to do so. It's also a great opportunity to get to know other members of our club.
Food and Catering
Next year (2019) the catered days are Wednesday, Thursday & Friday.
Please note in 2019, we are moving to a new location as we have outgrown our old stomping ground (Tabourie).  We have made arrangements to carry on our fine tradition at Racecourse Beach, Bawley Point.
 Catering each day begins with the brunch cook-up of bacon and eggs from 12.00pm.  'Milkshakes and melon' are served as an afternoon snack and delicious dinners are provided each night. Families need to sort their own breakfasts each morning, however are welcome to still eat together or meet for a coffee in the 'Food Pavilion' if they choose – you just need to BYO Nutri-Grain and milk!  (please note we will not be supplying industrial toasters, kettles, etc at breakfast. Coffee machines however will be available for folks to set up and make their own coffee).
Past dinner menu's have included Homemade Burger Night, the infamous Butter Chicken and Curry Night, and then a Surf'n'Turf Mixed Grill BBQ with Prawns and Fish. There are also plenty of salads that change each night and vegetarian options available (however you must advise if you are a vegetarian when you email your details so we order appropriate quantities). If your kids are fussy eaters there will always be plenty of sausages and bread rolls so they won't go hungry.
This year's catering costs are still tbc, but as an indication in recent years it was $18 per head per day for adults and teenagers 13-years and over. Kids 5-12 years were $12 per head per day and under 5's were free! There is no flat family rate – each member of a family over 5 years has to be paid for. Alcohol and soft drinks are not provided, so please bring your own if you want these. A wrist-band system for catering was introduced in 2017 as it was discovered that with our growing numbers we'd been feeding a few non-South-Curly holiday park dwellers who couldn't resist our critically acclaimed camp cuisine.
You need to advise the organising committee if someone in your group has allergies, they will show you the recipes and ingredients. If you have special dietary requirements then please make sure you bring what you need. We aim to have options for vegetarians (if you advise at time of registration) however with a group this size it is too hard to cater for individual food intolerances, etc.
If you don't want to join in with the food arrangements, that's fine, just let us know.  Keep in mind though – even if your kids won't eat one or two of the things we supply – it is very sad to see little faces watching the others enjoying the food together, including the milkshakes and ice-cream, because their family didn't sign up.
Payment details are confirmed, once we know who is coming.  Payment will be via bank transfer and must be paid prior to the event as the funds are used to buy food, barbeques, hire chairs/tables, etc. Deadline for payment will be included with the bank details once you confirm your attendance for 2019.  We do ask everyone to do one or two shifts of prep, cook or clean up. Again, once numbers and names are confirmed, a roster is published to let you know your shift.
Accommodation, Camping and Registration
While there are some cabins and bunk rooms at the park, these tend to be booked well in advance by families returning from previous years. If any do become available we let those interested know.  Families that are camping need to contact Racecourse Beach directly on (02) 4457 1078, to book their spot, please quote you are with South Curly (as we have a designated area and price) and then email Gitta Johnson  kengitta@optusnet.com.au with the following details – family name, contact number and dates you are staying.  Note – you are not required to come for all of the days – just let us know which days you will be there. Similarly, many families come earlier and look after themselves until the rest of the group arrive.
So if you'd like to be part of our big adventure please email Kirsten Quinn at kmquinn33@gmail.com with the following:
Cabin/ campsite number
Names of each member of family (also if anyone is a vegetarian)
Ages of children
Which days you will be there
Best contact phone number and email address
Thanks
Your Holiday Committee*
*We all pitch in to plan the entire event, however our main areas of responsibility are below if you have any questions:
Frequently Asked Questions
For those who have not been to our camp, here's a few frequently asked questions that will help to give you an idea of what its all about (and some of the practicalities)
Q. Where is it? 
Racecourse Beach Holiday Park  (02) 4457 1078, just south of Ulladulla, approx 3.5hrs drive south of Sydney
Q. What sort of accommodation is it? 
The Tourist Park offers Cabins of different sizes and levels of sophistication (basic to not-bad), bunk-houses (a private lockable room with bunks, cook top, a sink & microwave but use of shared amenities), and camping (both powered & un-powered).  You can generally chose to suit your pocket and preferences, having said that all the cabins are pre-booked and allocation is managed via the committee (Gitta). The Park put all the Sth Curly tents etc together so its a real tent city of Curly blue & yellow rashies drying on tent lines.
Q. When is it? 
The 'official' camp dates for 2019 are Wed 24th April to Sat 27th April (catering Wed – Fri night, pack up and departure on Saturday).
Q. Do I have to stay for the whole time/Can I stay longer? 
It is entirely up to you when you come and leave, you can make it shorter or longer.  Just let Gitta (our accommodation organiser, thanks Gitta!)  kengitta@optusnet.com.au and the Park www.racecoursebeach.com.au know your dates.
Q. So what do we do about food? 
The club has access to a camp kitchen which we use as the hub of our activities.  In 2019 catering (brunch & dinners) will be Wednesday to Friday (those that arrive on Tuesday or earlier usually pile down to the local RSL for a meal).  We fry up bacon and eggs for a brunch each morning.  The dinner menu varies from year to year and has included delicious bbq's, homemade burgers, butter chicken, lamb korma and a sea food extravaganza.  On the last day, we eat whatever is left but there's no organised fry up as everything is being packed up.
A roster is organised so that everyone does their fair share of prepping, cooking, serving or cleaning up. It might sound like a chore, but with so many hands it turns into another social get-together.  Bring along whatever you want to supplement the above, soft drinks, wine, beer & munchies are usually top of the list.
Q. What are the facilities? 
There's a couple of toilet/shower blocks for the campers, bunkhouses and cabins that don't have their own facilities.  Kayaks for use on the lake, BMX track, tennis courts, jumping pillow and water park for the younger kids.  Check out the Park website for more info www.racecoursebeach.com.au
Q. Surf? 
If you can drag yourself away from the various attractions in the Park, there's lots of options for water sports.   There are also heaps of beaches within 5mins drive for the more dedicated/desperate surfers.
Q.  What do I need to bring? 
The club brings down as many surf boards, skis, boats as we can – all are available for use.  Bring your own boards etc if you have them.  Bikes provide a good way of scooting around the camp site to and from toilet blocks, camp kitchen, tennis court etc so bring them if you can squeeze them in (they've even been seen pedalling along the beach, but I'd call that hard work!).  Depending on your accommodation choice, you might also need to bring sleeping bags & pillows, all the other stuff too if you're camping.
Q. How do I sign up? 
Anybody who wants to know more please contact Gitta Johnston  kengitta@optusnet.com.au  First in best dressed,  let Gitta know as soon as possible.