Step 1 – Agree date.  Tick.  Pencil in Saturday 20th October 2018 for a not-to-be-missed event at South Curl Curl.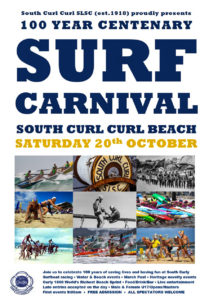 THE DAY IS NEARLY HERE!
South Curly haven't run a surf carnival since around 2002 so this is a very special Centenary event for us.  The event will culminate in the running of the Curly 1000 Beach Sprint…the World's Richest Beach Sprint!  This event has history and has attracted many many elite athletes over the years…one even arriving by helicopter from another event.  You don't want to miss this one.
General details:
Set up from 6am – general work party needed
Pack up from 2pm  general work party needed
Registration desk open 7am
Sweeps Meeting – 8.30am
Masters events are 45+ years
Surf Boats are invitation only
What do we need:
Helpers
– please contact us to be part of the general work party.  You will be allocated a job on the day in teams to get things done – no experience necessary, you will be with experienced people and shown. Email: Dave Alldis on
david.g.alldis@aexp.com
if you can help on the day…couple of hours,the whole event or even to help with packup if you are busy until then, it all helps.  We need to form the roster week commencing 8th Oct and also roster some patrols to certain tasks to help out, so look out for more communication.
Competitors – we are encouraging as many members as possible to enter events …having a go is what we are about at South Curly and now is your chance..at your own beach for your own club.  We want to see as many blue, yellow and white caps out there as we can!
Spectators – spread the word, we want a big crowd sitting in the dunes, milling around and enjoying the spectacle.  We will have a great bbq on the viewing deck, merchandise for sale, roaming musicians and the spectacle that is a surf carnival…..tell family and friends to come on down for a great day at the beach.
If you would like to enter please see the list below and send an email to 
jennydrury@statcom.com.au
to register.  Send your name, age, contact details and event details.
For example :
Matt Smith
Age 35
04XX xxx xxx
Event:  Opens Mens Beach Sprint, Open Mens Surf, Pillow Fight
Carnival Event List:
Open Mens & Womens:  Surf Race, Beach Sprint, Board Race, Ski Race, Beach Flags, Mixed Beach Relay (2 x Male, 2 x Female)
Masters Men & Womens:  Surf Race, Beach Sprint, Board Race, Ski Race, Beach Flags, All Age Beach Relay (Mens & Womens)
U17 Mens & Women:  Surf Race, Beach Sprint, Board Race, Ski Race, Beach Flags
March Past
Retro Novelty Events:
Pillow Fight,
Tug-o-War
Chariot Race
We are aiming to finish up the event between 2 and 3pm and the music will kick on and the bar will be open to celebrate!
Thanks South Curly we know we can count on you to make this a successful event, full of good sports, good cheer and our usual can do helpful attitude.
Carnival Organising Committee Chair
Steve "Dr" Hall