2018 South Curly Ocean Swim – 9am, Sunday April 29th
Race Information
The South Curl Curl Surf Life Saving Club annual 'Ocean Swim' Classic is an approximately 2km swim from South Curl Curl Beach, around the headland to Freshwater Beach. Swimmers are provided with a fantastic course taking in a small amount of reef, a small amount of blue water, but mostly sandy bottom. Spectators will enjoy practically 100% views of the swim as they follow along the walkway built along the Curly headland. Once the swim is completed, join your hosts back at the South Curly SLSC for a BBQ and presentations.
Entries On the Day
7:30 – 8:30am. South Curl Curl SLSC, Carrington Parade, Curl Curl, NSW 2096
Entry fee: on the day it's $50, but only $40 if you enter before race day!
You can enter our event online via Oceanswims.com. Click here for direct link to online entries. And you can check on Progress entries here
Mail Entry
Alternatively you can enter by mail. Please download the Entry Form, complete it and post it to
South Curl Curl SLSC
P.O. Box 18,
Freshwater
NSW 2096
Sponsors
The swim is proudly sponsored by  great local corporate supporters, please get behind them and return the favour. Without them we could not put on this great event.  Our ongoing thanks to Bendigo Bank, Freshwater and Allan Hall Business Advisors
Further Information and Contacts
If you need any further information, please email mail@southcurlcurlslsc.org and we'll get back to you ASAP.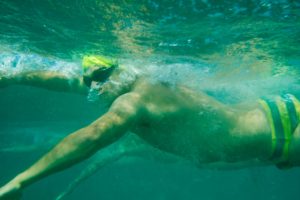 Last Year's Race
Full results from the day can be viewed here.  Thank you to all swimmers and everyone who supported this annual event and congratulations to all swimmers.
Check out the video from the day here.  Photos from the day can be viewed here and are available for purchase for $10 per image, all proceeds going to Sth Curly SLSC. Use the Payment tab above, include 'Ocean Swim Photo & your name' in the details & send a copy of the receipt to vivienne@maviimages.com.au with your request.